Concrete Polishing in Manhattan
[wpseo_breadcrumb]
Concrete comes in a number of different consistencies. There's hard concrete (Above 6000 PSI), Medium concrete (Between 4000-6000 PSI), and there's Soft concrete (Less than 4000 PSI). Soft concrete is usually found in buildings that pre-date the 1950s. In newer developments, medium to hard concrete is more prevalent. The softer the concrete the more densifier is needed to be applied to your concrete during our process to make sure it's hard. Densifiers can make your concrete up to 10x as hard when fully dry. Medium to hard concrete needs less densifier during our process as it's already a hard surface to cut.
We offer a full spectrum of floor polishing options for spaces of all types and sizes. Our diverse clientele ranges from homeowners seeking a simple polish to investment brokers looking for a seal and stain for their shopping mall's floors.
Epoxy finishes are trendy and work very well in metallic finishes and matte finishes. Metallic finish epoxy gives you that marbling look. Matte finish epoxy gives you just a flat look to the floor with no pop to it.
We use modern technology and years of experience revitalizing old and tired concrete floors. We create the illusion of marble and granite flooring at a fraction of the price of the real thing. Our concrete polishing method is highly cost-effective and easy to maintain, making it a popular choice for many office buildings, retail spaces, and even home basements and first floors. As a result of the polishing process, all products added to the concrete are intended to enhance its natural beauty.
Why Polish Concrete Floors?
Polished concrete's strength and aesthetics make it an ideal finish for various buildings and spaces. Homes, stores, schools, retail spaces, and offices all benefit from this solid material's foundation in their rooms and hallways.
You can give your home and office space an elegant look, as polished concrete requires one-third less lighting because of its reflective property. While other floors require constant repair and maintenance, you won't have to worry about your polished concrete floors as they are easy to clean and stain-resistant.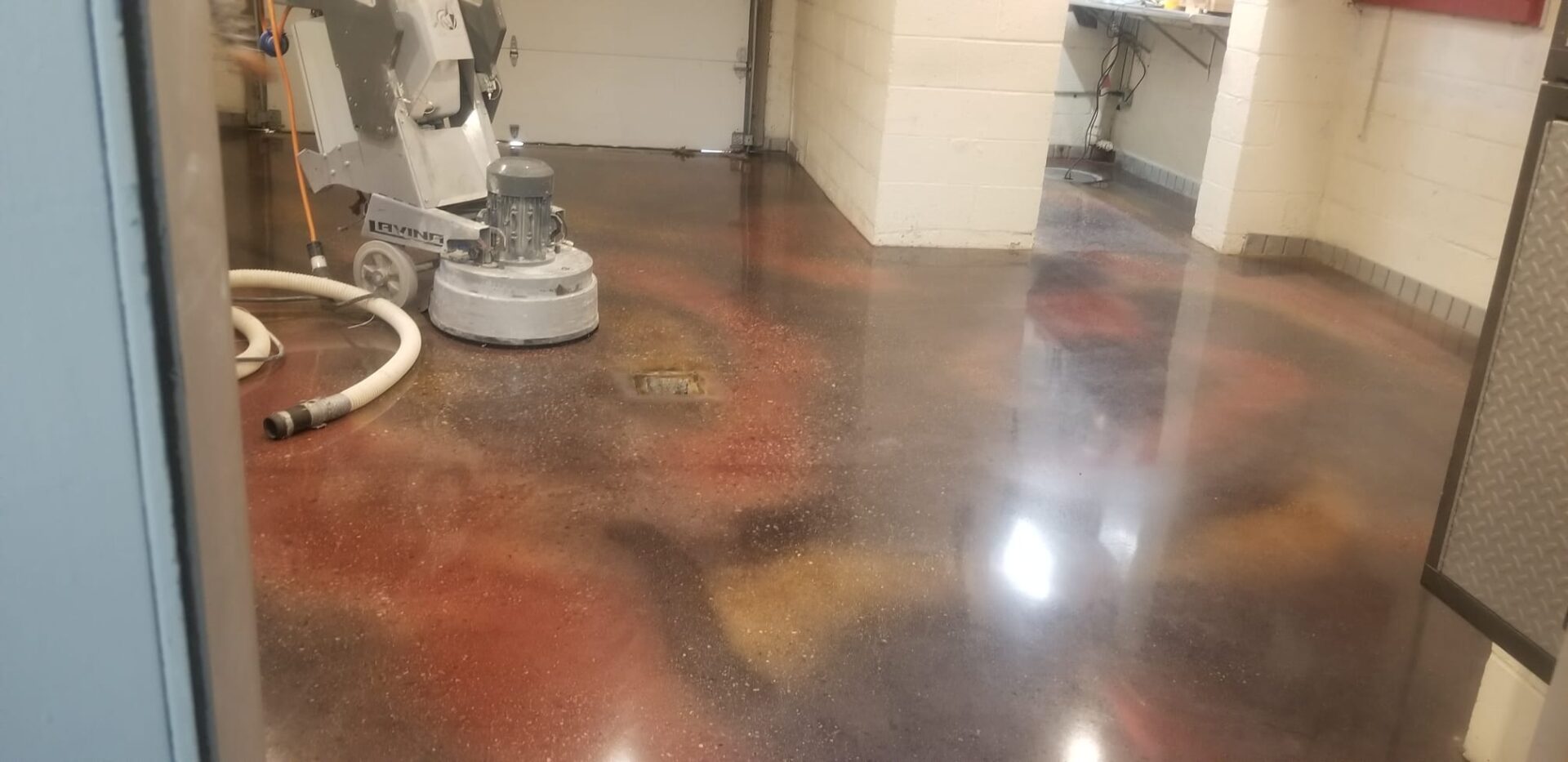 What are the advantages for an Epoxy Top-Coat?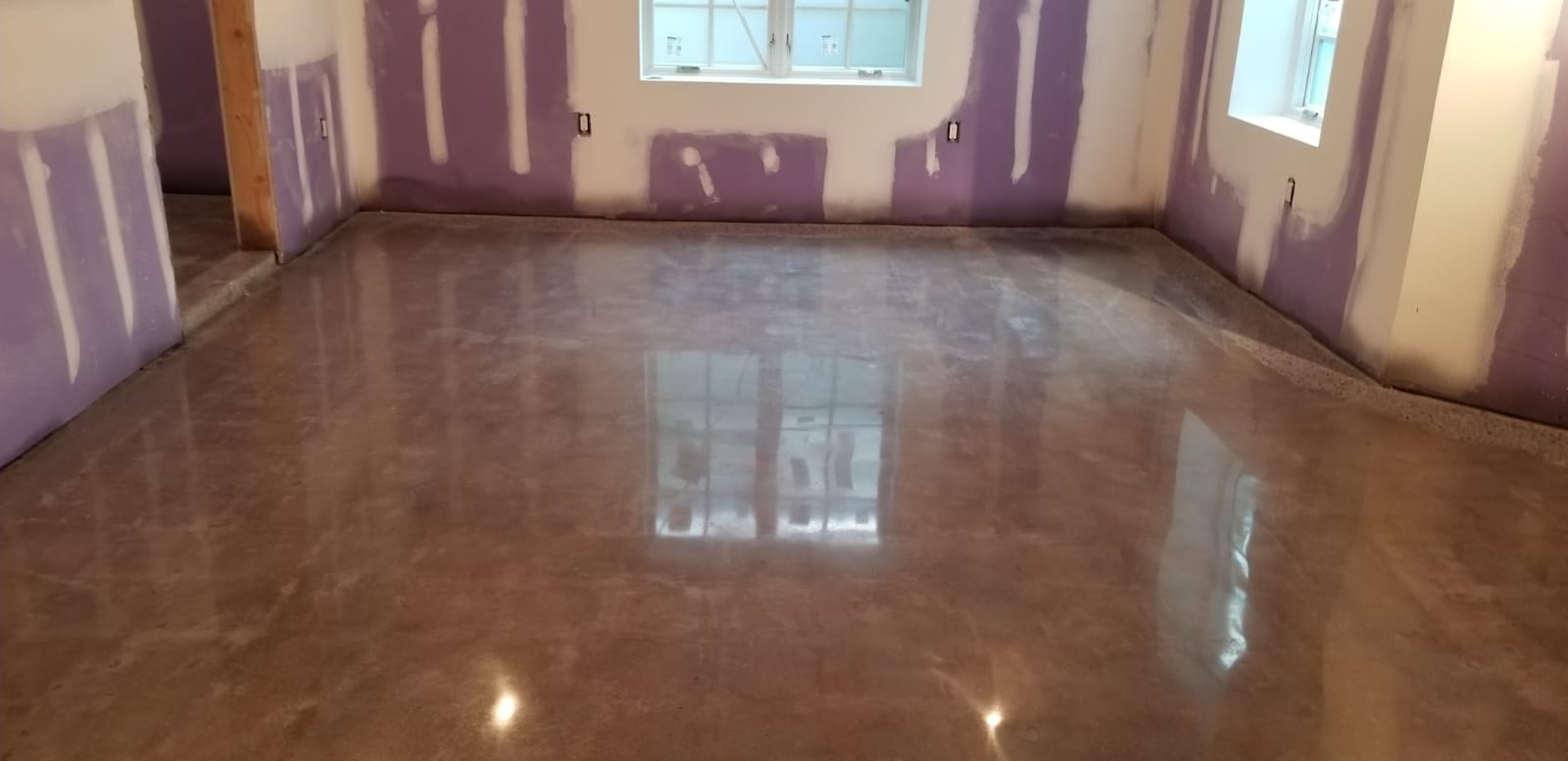 Epoxy coatings are durable, strong adhesives that can be used for a variety of purposes for floors and countertops. When the epoxy resin and polyamide are applied together they harden to create an everlasting chemical reaction. Epoxy coatings can be applied to a multitude of surfaces, and both preserve and restore your spaces to give them a unique look and finish.
Our coating services have a long lifespan and require minimal maintenance, making it an ideal service for residential, commercial, and industrial projects!
Frequently Asked Questions:
Q: Will this create a lot of dust?
A: It's all a dust process but our dust extractors suck up the dust as soon as it's being produced by the grinding machines.
Q: How long does the sealer last?
A: All natural water-based sealers on the market last between 1-2 years of constant use.
Q: What should I do to maintain my new look concrete floors in the meantime?
A: We provide our clients with a gallon of neutral cleaner soap. We use this soap for all concrete and stone surfaces. It's neutral on the PH scale so all it does is clean the stone and not affect it in any negative ways over time. Use a very little bit of neutral cleaner soap, cold water, and a clean rag. Wet the stone surface and then dry it off with the same rag (damp).
Q: How many coats of sealer do you apply?
A: We apply 2 coats of sealer at most. If you apply any more than that it will just sit on top of the already sealed stone.
Q: The sealer protects my concrete from stains?
A: Yes, although it won't protect your stone from etch marks, etch marks are caused from acidic substances such as lemon, wine, vinegar and anything in that family of household items.
See What Customers Are Saying
Ruza Madarevic
2022-11-01
Jack and his crew did exactly what they promised which is so rare during my experience of gut renovation. They told me ahead of potential issues, asked to think if I'll be ok with that. I also appreciated fast responsiveness and being super on time. Our terrace looks beautiful!
Signature Cleaning
2022-10-26
My team was very pleased with the quality of the work and the professionalism Concrete Care NYC took with completing the job. They were very skilled and pleasant to deal with and would highly recommend them for your floor needs.
Daniel and Alberto are an A+ team. They worked around my travel schedule and managed to fit me in to start work the following week. Throughout the process, both were always contactable via cell, even late at night. I was skeptical given how old my floors were but they exceeded expectations and did a great job. Although it took slightly longer than planned (floors were very old), they stuck to the original quote. I have no reservations giving MarbleLite my highest recommendations!
Fantastic job, very happy with the results. On time and on budget.
Great experience! My apartment floors came out EXACTLY how I pictured them. Great experience and easy to work with.
Reliable, professional service. Good quality work. Highly recommend..
kieran collings
2021-12-13
These guys were FANTASTIC to work with I couldn't recommend them more. Super professional from scheduling to the work being done. We couldn't be happier with the results see images for yourself. If you need floor work done I highly recommend you reach out.
The team was able to turn my awful basement floor into a absolutely beautiful floor. It was a roller coaster ride dealing with other companies and trying to get the type of finished we wanted, which was a polish concrete but this team stepped up and really came to the rescue. It was a great experience overall. From the initial call to the estimate to the work being done. This team is extremely professionally. We appreciate all the hard work and are so thankful. Can't thank Daniel enough for helping me through the process. If you are thinking about using Marble Lite/ Concrete Care I definitely recommend it!!! Thanks again EVERYONE.
Orestes Gonzalez
2021-11-05
They restored a 12 year old concrete kitchen counter and a built-in bathroom sink and made them look better than the original finishes. The crew was friendly and professional, and knew their stuff thoroughly. Highly recommend!
The floors came out beautiful!!